TX-3 by Lecheek (Test booster/Estrogen Control/Libido Enhancer)
Product Description
TX-3
by Lecheek
An Advanced Testosterone & Libido Enhancer and Estrogen Destroyer!
Lecheek Nutrition's NEW T-X3 provides an increase in testosterone with three different compounds. T-X3 begins with a high dose of Arimistane (Androsta-3,5-diene-7,17-dione) at 50 mg. Than we have Fenugreek Seed Extract at 300 mg, and finally D-Aspartic with 3200 mg dose for each serving. You can take 6 capsules at once with a meal or spread them throughout the day; recommended 6 capsules with a morning meal and do not exceed 12 capsules in a 24 hour period. This will be the eye catching natural testosterone booster of the year! With a synergestic profile, at effective doses, T-X3 is bound to bring you the quality results that you will see and feel dramatically, looking your best and helping you acheive your goals!
Improve your energy levels and power at the gym. Getting better workouts will make you feel like going to the gym is actually worth your time. Not only will higher testosterone levels give you better gym sessions, but more energy throughout the day and even a better sex drive. As much as men don't want to face it testosterone levels do not stay as high as when you are 18, so using T-X3 you can gain back some of those better days and make the most out of going to the gym, after all, when you put the hardwork in it is nice to see it pay off.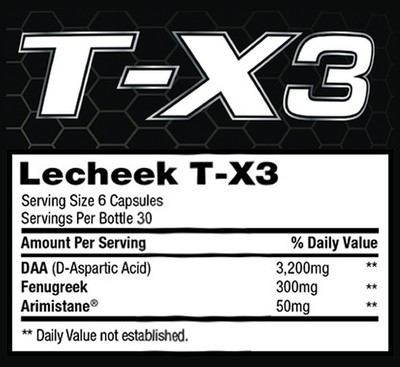 ---
Find Similar Products by Category
---
Customers Who Viewed This Product Also Viewed